Recommended Aussie Band:
Tamerlan Empire | Sydney Symphonic Black Metal | Listen
Live Reviews : METALTOWN – DAY 1 (Sweden) – 18/06/2010

METALTOWN – DAY 1
w/ Rammstein, Coheed & Cambria, Nile, Cynic, Sonic Syndicate and more!
Frihamnen, Gothenburg, Sweden – 18th June, 2010
A 2-day yellow wristband affixed and the sun shining, Metaltown 2010 promised to be a stellar festival for yours truly, with many big name metal bands playing to around 20,000 swedes and travellers on the docks of Gothenburg, arguably the home of European metal.
I kicked off day 1 with Swedish band Katatonia who garnered a relatively small crowd at the main stage. Despite the early time slot and a very bassy mix, the fans in attendance showed much enthusiasm for a set that c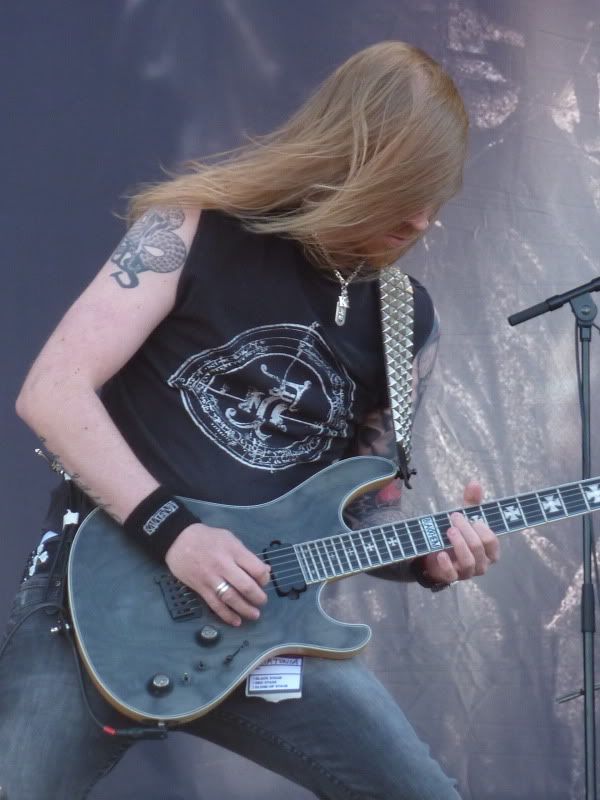 omprised predominantly of 'The Great Cold Distance'. 80s thrash legends Kreator were up next to a fast building crowd at the red stage and showed they still have the mosh pit inciting moves with a dominating live performance.
A quick dash back to the black stage to catch Swedish band Sonic Syndicate play an entertaining albeit generic set of metalcore, complete with token female bassist in hot pants and commercial backing in the form of a brand energy drink prominently displayed on their backdrop – not something one would expect at a heavy metal festival! After missing their tour of Australia in early 2010, I was pretty excited to catch jazz fusion pioneers Cynic strut their stuff on the Close-Up Stage. The band are for me definitely one for the small intimate venue, with the band members stage manner resembling that of the rehearsal room, and that the crowd is looking in on pure musical genius. Unfortunately the greater Gothenburg public didn't seem to agree, for when I left the tent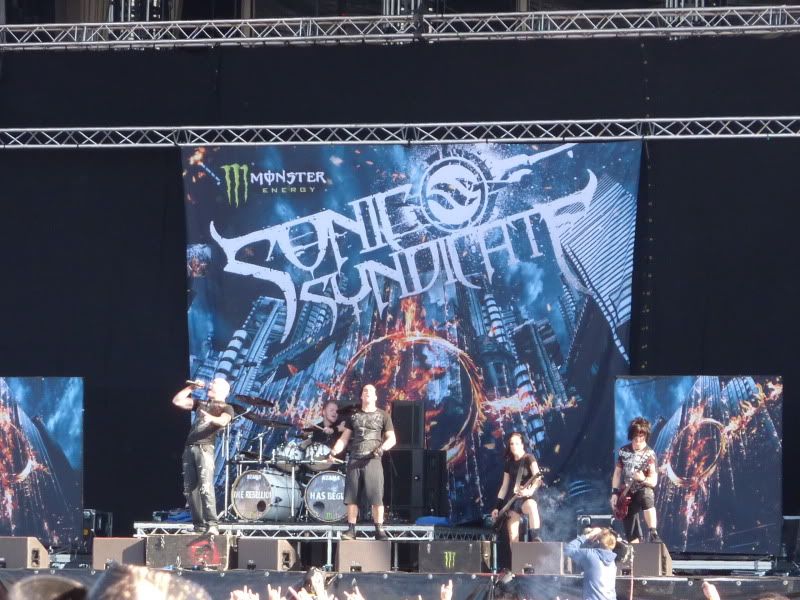 near the end of the set I was astonished to see not more than a three or four hundred people out of the 22,000 in attendance!
Up next on my schedule were American death metallers Nile, who are, well let's just say American – generally arrogant, and good at what they do. They played mainly Ithyphallic era tracks, and just as I made my way a little early to the next stage I could hear my favourite track of theirs, `Lashed to the Slave Stick' in the distance… funny how that always happens! Coheed & Cambria took over the main stage to what was easily the biggest crowd of the day, including an spirited Mikael Stanne from DT. With the middle portion of their hour long set showing a more rock friendly vibe, it was their opening and closing tracks in the progressive metal vein that really got the crowd moving, even though one would suspect that the build-up to the headliner contributed to the inflated crowd.
Next it was time for that main headliner of the festival, and for those of y
ou have seen a Rammstein set either live or on DVD, you'll know how difficult it is to explain, but here goes!
Having raised a curtain to hide the stage, the intro music came on and just as Rammlied was about to kick in, the curtain fell to reveal the largest german flag since Nuremberg. The crowd lapped this up, and in a few seconds this also fell away to reveal the legends themselves. Covered in dirt and grease as always, lead singer Til Linderman broke into `Bückstabü´ with a light in his mouth. I´m not sure how they do it, but whenever he opened his mouth it lit up… from the inside… like a fridge… bizarre.
But fridge magic was only the begginning. As the show progressed, there was the usual fireworks, amazing execution of their songs, and general enjoyment from the crowd. But then came the things that turn good shows into great shows – and then into freak shows. A petrol pump was placed on
stage, which Til went on to use as a flamethrower, and then progressed to set a stage invader on fire with it… we´re hoping it was set up too! Then, after picking up keyboardist Christian Lorenz over his shoulder, putting him in a bath, then covering him in sparks, Lorenz returned dressed in a mirrorball suit, and after dancing about on stage he continued to play the rest of the show on a rotating treadmill.
Finally, during `Pussy´, Til attempted to outdo their film clip by riding back and forth across the stage on a giant penis spraying foam out into the crowd. This is all on top of covering the crowd in fog, shooting fireworks with a crossbow, and Lorenz navigating an inflatable boat into the audience. Having been fans of Rammstein for a while, we were well prepared. But it did make you wonder what must have been going through the heads of the people who didn´t know them.
All in all though, Rammstein manage to turn what sounds crazy – and sometimes tacky – into the greatest show in heavy metal, combining an amazing stage show with great music, executed with (German) precision, and capped off the perfect welcome to Gothenburg.
Sonic Syndicate setlist
Intro
Rebellion in Nightmareland
Encaged
Flashback
Revolution, Baby
Jailbreak
Psychic Suicide
Ruin
Power Shift
Blue Eyed Friend
Aftermath
Burn This City
.
Coheed & Cambria setlist
One
The Broken
Here We Are Juggernaut
The Camper Velourium III: Al the Killer
Three Evils (Embodied In Love And Shadow)
Made Out of Nothing (All That I Am)
No World For Tomorrow
Guns of Summer
In Keeping Secrets of Silent Earth: 3
Welcome Home
.
Reviewed by Brendan Amos with Mathew Boelsen.
Photos by Jess Day.