Recommended Aussie Tunes:
Psycroptic | The new single "A Fragile Existence" | Listen
Interviews : Be'lakor (George Kosmas) – 14/06/2009
Having been around for only a few years Melbourne's Be'lakor have rapidly built up a large fan base, and released their 2007 debut "The Frail Tide" to an almost unanimously positive response. Now, after teasing fans with new tracks on the live scene for an annoyingly long time, Be'lakor are finally about to release their second full length, "Stone's Reach". June 20th will see the release of this highly anticipated album as well as Be'lakor hitting the stage alongside a string of other excellent Australian band's to celebrate the release, followed by a short but sweet interstate tour. I had the pleasure of talking to George Kosmas (guitars and lead vocals) about the new album.
~~~~~~~
Metal Obsession: For those unfortunate enough to not have heard of Be'lakor, can you give us a brief introduction to the band.
George Kosmas (guitar/vocals): Most simply, we are a melodic death metal band from Melbourne, Australia- although we also have progressive/doom elements to our music as well (or so we are told). Two years ago, we released our debut 'The Frail Tide' and on the 20th of June we'll be releasing our second album 'Stone's Reach'.
MO: The album cover and "Stone's Reach" title tie in nicely, is there a theme running through the album?
GK: In a sense it's quite traditional, because the album is essentially about time, death and finality. The medium we choose to explore this is usually through story-telling, so each song tends to contain its own tale. These are very diverse, however, examining anything from sci-fi to myths and even personal observations. The concept of the title and cover link these together very well I think, but I'll leave it to the individual to mull that over.
MO: How was the recording process? There were a few delays along the way…

GK: Overall, the recording went fairly smoothly. The delays were not caused  by any serious issues, but rather miscalculations about how long the process would take. We also had to share the studio with others (Mortification finished up their latest album right in the middle of our six month affair). The whole undertaking was very complex and required a lot of planning and organisation. In the end we managed to avoid most problems, I think.
MO: How do you think "Stone's Reach" is an improvement over your debut release?

GK: Well, I'm biased but I think it's an improvement in every way. "The Frail Tide" was our first attempt at making an album and it suffered from the same sort of flaws you'd see on any initial experiment. Whilst we're proud of it, I think we all felt that it wasn't a good reflection of what we could produce. In my opinion, the music on Stone's Reach is more sophisticated, complex and engaging. It's also a lot darker. The production and artwork are a significant step up too.
MO: You've been playing some of the new album's songs for a while now, have they changed at all since people would have last heard them live?
GK: I don't believe so, they're pretty much the same songs. A few bits may have been adapted or improved in the studio – which is inevtiable- but they're more or less the "full" version of what we presented live. I say that because we'd often need a third or fourth guitar to show people exactly what we had in mind in a live setting.
MO: What's your favourite song off the new album?
GK: Countless Skies- the final track.
MO: Were there any songs that didn't make the cut? Or is the album all of the material the band has written.
GK: There are quite a few riffs that didn't make the cut, but no songs. When we write music we don't budge from a section until we think it's completely up-to-scratch. If we don't think it's 100%, then we just drop it immediately. So in this way, we don't really produce anything that isn't a final product. This is a very slow process, however.
MO: You've just announced the "Stone's Reach" tour, are any particular places you're really looking forward to playing? Or any bands you're really keen to play with?
GK: I think we're just excited to finally get out and tour Australia! We'll be playing with many quality bands – I don't want to single them out because then it will look like I'm playing favourites – but I think the bills reflect the high standard of metal being produced in Australia at the moment.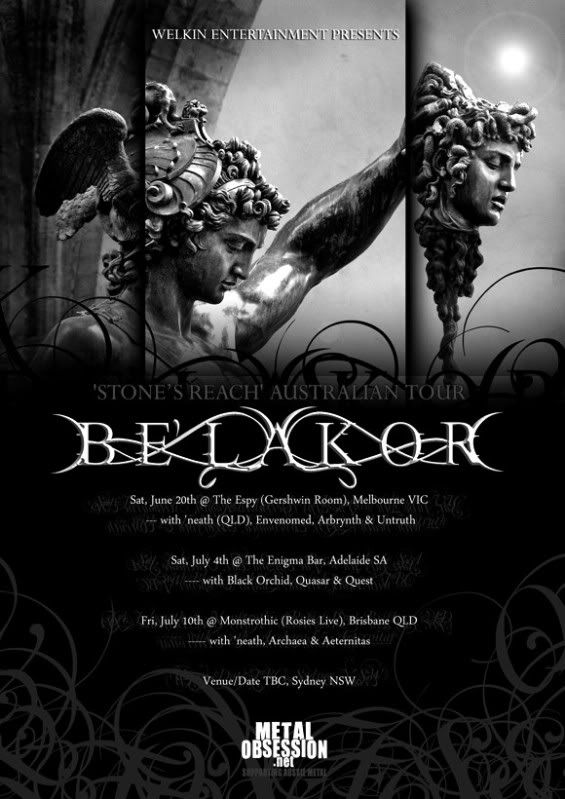 MO: It's a relatively short tour with only four dates. Will there be any further interstate gigs coming up?
GK: Not at this stage, most of us work quite demanding jobs so it's pretty hard.
MO: Somebody made the comment to me not long ago that it was interesting how you guys began with a full album ("The Frail Tide) rather than an EP or demo. Why did you choose that?
GK: To be honest, "The Frail Tide" was originally envisaged as an EP. It wasn't until it started shaping up to be (what we thought was) quite a decent release that we decided to do it properly and release it as an album. Also, we tend to be quite a neurotic band (as I touched on above) – we don't like to do things in halves. Anybody who has worked with us knows how picky and annoying we can be!
MO: It's just been announced you've signed a deal with Prime Cuts Music. Congrats, I'm sure your very excited to finally secure a label…
GK: Thanks mate! Yeah we're very pleased to be on Prime Cuts, it's a good quality label that secures our distribution within Australia. Internationally, however, we are still effectively unsigned- so there's a way to go yet.
MO: What made you pick up a Telecaster?
GK: No good technical reason, I'm afraid. I just liked the look of it and I knew nothing about guitars at 15. In hindsight it wasn't a conventional choice for metal – but I replaced the bridge pick up with a humbucker so it has served me well! I think it's also given me quite a unique tone live. I also just acquired an ESP MII, so that will be making a live appearance hopefully.
MO: What other local bands would you suggest people check out and keep an eye on?
GK: See, I don't like to do this because I'm sure i'll forget some bands and look like an arsehole. My personal favourites are Nazxul, Ne Obliviscaris, The Ocularis Infernum,  Astriaal, Psycroptic, The Eternal, Arbrynth, Rainshadow, Adamus Exul, Okera, Psycroptic, Alchemist, Blood Duster… the list could go on forever.
MO: Cheers for doing in the interview, and good luck with your album launch and tour! Any last words for the Metal Obsession readers?

GK: Thanks for reading, hope you enjoy the album and come to our show! Should be a fun night where you can increase your chances of getting swine flu, then you dont have to go to work! You can't beat that deal.
Band: Be'lakor
Date: 14/06/20009
Origin: Melbourne, Australia
myspace.com/belakor
Interviewer: Mitch Booth (Mean Machine)
Interviewee: George Kosmas (guitar/vocals)