Recommended Aussie Tunes:
Psycroptic | The new single "A Fragile Existence" | Listen
Album Reviews : Black Orchid – Inertia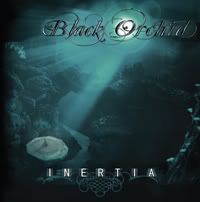 From the men that brought you Australia's premier female fronted Gothic metal band Chalice comes Black Orchid. Chalice were a favourite band of mine ever since they appeared on a certain heavy metal radio program's compilation CD. Quality leads and one amazing voice in the form of one Shiralee Morgan, they unfortunately split after a short decline into nothingness. Since then, fans of girly goth have had to look overseas for their fix of quality metal. The question remains, is Black Orchid here to fill the vacuum or to sit atop a pile of shit?
The answer is neither. By no means is this a bad album. In fact, if you like your metal to have a menstrual cycle, you will without a doubt find something to like in this album. Vocalist Abby Skye has a nice voice, but not a great one. She doesn't aim to go over the top with any sort of operatic singing like others, but her voice does leave you with the feeling like she's just not trying that hard.
Another issue I have with this album is that the heavy parts are not all that heavy and the other parts don't reach the levels of beauty that you often relate to this sort of music. The guitars and the bass seem to be disconnected from one another rather than blending together like they should.
Now that I've finished tearing them down it's time to build them back up again. The album begins with some very nice lead guitar work, and as a baking instrument, Skye's voice is a wonderful device. The music is well written, and overall has a good flow, it just seem when there is a build up in a song, like in the title track inertia, it builds up, but when it reaches the peak its almost a let down that there is nothing more to it.
Serenity, the track that makes the album, clocks in at just under 12 and a half minutes. After a 3 minute guitar intro, piano is the way forward before the track kicks in with all instruments, offering some well written music, and allowing the band to move in new directions, made possible by the manly men of the band all having music writing credits on the track. By the 8 minute mark there is a change of pace with an extended drum solo,  before the band enters again and leaves you wondering where the hell Skye got to?! The 12 odd minutes are up and you're left wondering what she will do live during the song.. maybe meet some fans at the bar during that prolonged break for her?
Some dramatic keys and backing vocals start the final track on the album, Time. After the interesting start on Serenity my attention faded, and the sounds of Time are quite welcomed, offering up the heaviest track on the album. Its a great song to finish off the album with, on a high, leaving you wanting more.
Some more tracks like Time on the next release, offering up something heavier and more dramatic, but also some more beauty from Black Orchid and we have a winner. For now, if you're a fan of the genre definitely check this out, as its nothing outstanding in the genre, but its definitely a place to good to start.
7.5/10
Band: Black Orchid
Album: Inertia
Year: 2008
Genre: Gothic Metal
Label: Self Released
Origin: Adelaide, Australia
http://www.myspace.com/blackorchidsong
Track List:
1. Elysium
2. Destiny
3. Inertia
4. Serenity
5. Time
Review by Mathew Boelsen and Scott Boelsen